National Scheme of Qualification, Further Education and Training for Craftsmen and On-site Workers in the Sector of Buildings - energy efficiency and use of renewable energy sources in buildings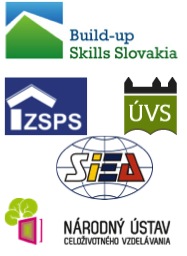 On 17 July 2017, the consortia partners (ZSPS, UVS, SIEA and NUCZV) finished the project aimed at establishing a national scheme of qualification, further education and training for craftsmen and on-site workers in the sector of buidlings. The national scheme StavEdu was focused on the energy efficiency and use of renewable energy sources in buildings. The project was a cornerstone of implementing the National Roadmap established in the framework of the Pillar I of the Build Up Skills Initiative managed in 2012-2013 by EASME under the Inteligent Energy Europe Programme (IEE). IEE is now part of Horizon 2020.
The National Rodmap has been endorsed by the Ministry of Education, Science, Research and Sport of the SR, Ministry of Transport, Construction and Regional Development of the SR and Ministry of Economy of the SR. This endorsement has been the political basis for implementing the project StavEdu.
StavEdu also affiliated suppliers of technologies and materials for buildings, construction companies and education providers. StavEdu focused on companies involved in construction of public buildings, residential homes and apartment buildings, as well as in delivering deep renovation of existing building stock with the aim of increasing energy efficiency of the buildings and increasing the share of renewable energy sources in the energy mix of buildings from life-cycle point of view.
StavEdu also facilitated a dialogue with social partners and other stakeholders on proposals for supporting measures. These measures should facilitate financing of the further education and training, support further investments in skills and knowledge of craftsmen and on-site workers. Moreover, these measures should facilitate acceleration of deep renovation of the existing building stock. These measures should motivate the demand for intelligent energy solutions in buildings. See our section "Stakeholders Dialogue" for further details.
Click here to download a short presentation of the project.
Click here to download information brochure (only in Slovak).
Links to existing initiatives in lifelong learning at European and national levels
The national scheme StavEdu for craftsmen and on-site workers in the area of energy efficiancy and use of renewable energy sources in buildings used the outcomes of all existing initiatives in the area of lifelong learning and at the same time it supported and strengthened their application in the condition of the world of work: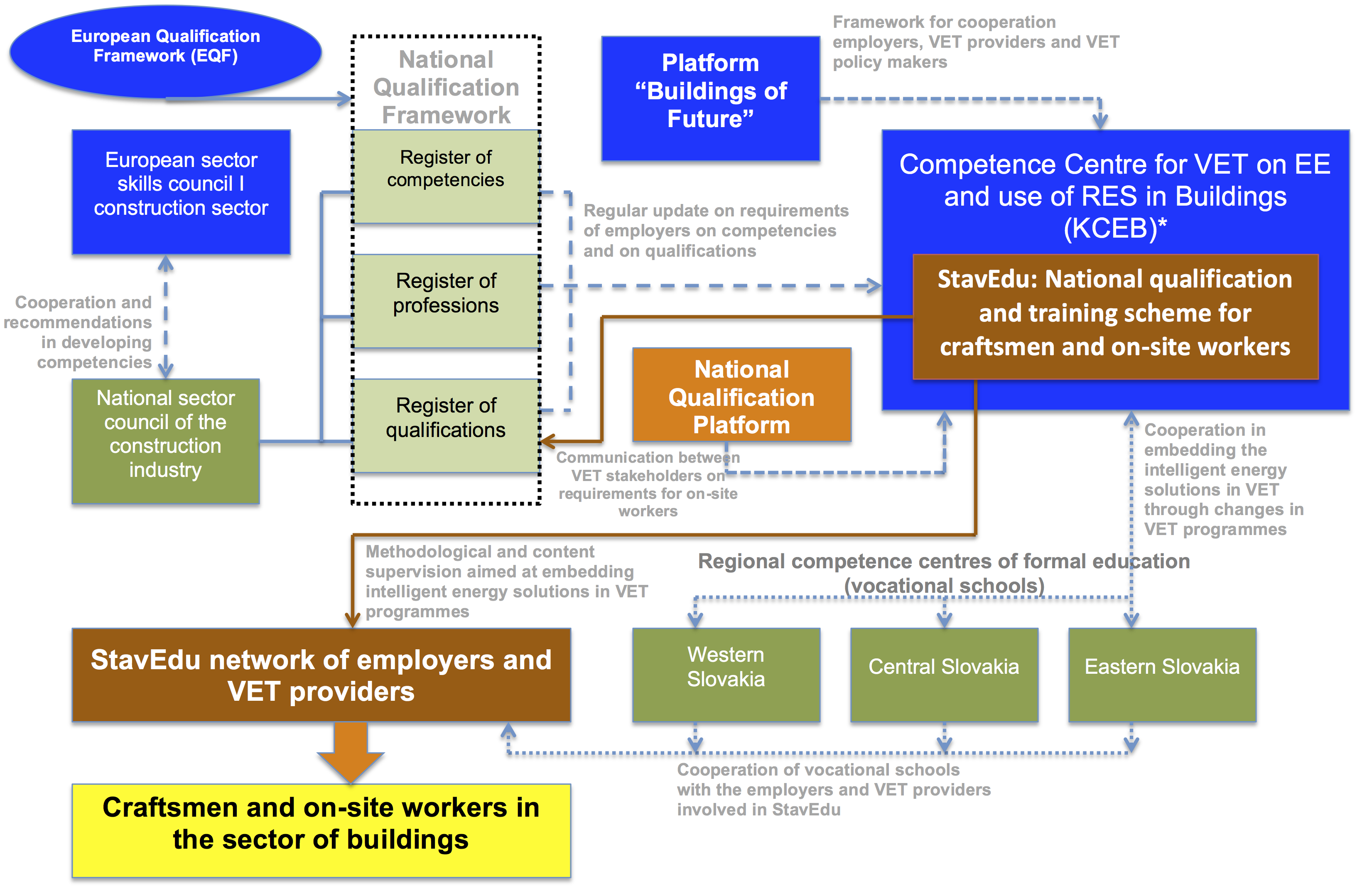 Time plan for setting up, launching and course of the national scheme StavEdu: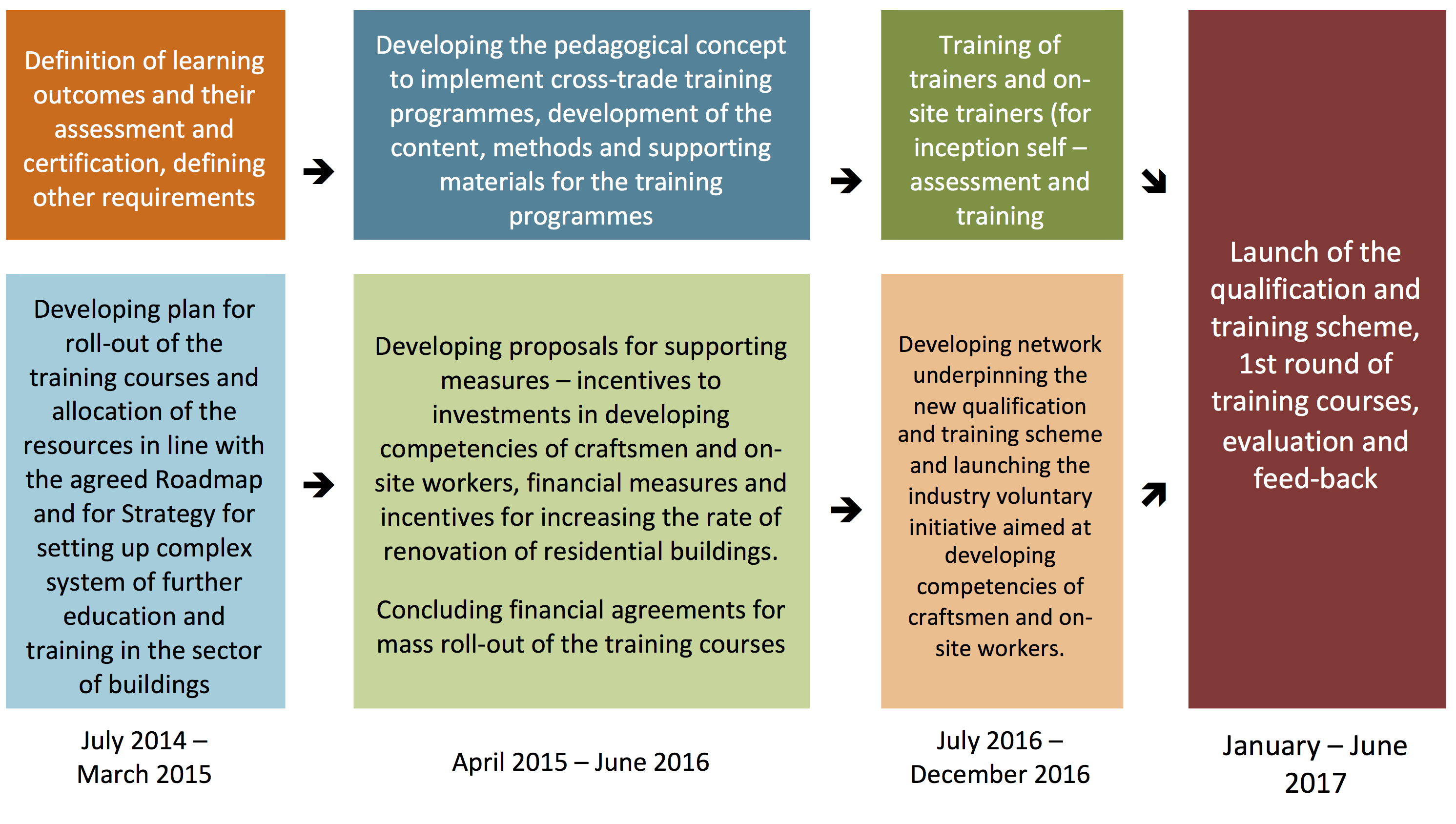 Final StavEdu conference
On 29th June 2017, a final conference of the StavEdu project was held in Bratislava to assess the results of the project. The individual partners presented the results of the project as well as the further progress in education in the field of energy efficiency of buildings and the use of renewable energy sources. This conference provided a forum for discussion with stakeholders and key players in the education market on project outcomes and pilot training. You can download presentations from partners here:
http://stavedu.wbl.sk/kyrinovicova_programy_1_az_7.pdf
http://stavedu.wbl.sk/magyar_program_8.pdf
http://stavedu.wbl.sk/magyar_program_9.pdf
http://stavedu.wbl.sk/perackova_program_6.pdf